Rovelver Vip Auto Design
Symbiose of luxury design and technical quality The fascination with the premium brand Rovelver VIP Auto Design comes from an upmost understanding of quality, attention to detail and an incomparable customer experience. As a pioneer in the field of luxury VIP Vans, special emphasis is placed on innovation and flawless production. There are no limits for amenities and requirements of customers.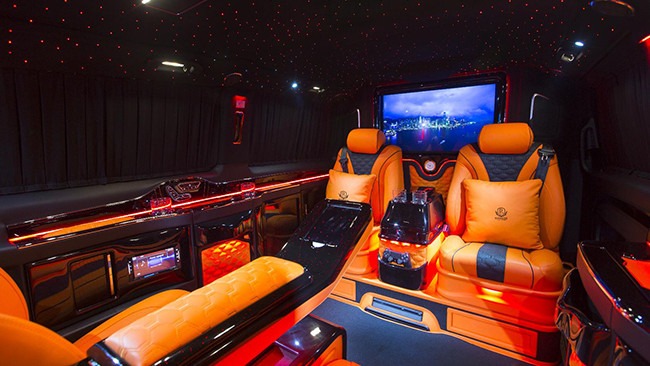 Mercedes-Benz VIP Van – Rovelver Royal Edition
The Rovelver Royal Edition is the non plus ultra among the Rovelver interior designs. The benchmark product line is provided on basis of the Mercedes-Benz V-Class and Sprinter in addition to the most extensive handcrafting and latest in technology, VIP features and interior design art. The Royal model enables unlimited design creation of unique VIP Van masterpieces.
Mercedes-Benz VIP Van Rovelver Business Edition
The double vehicle insulation for reducing external noise, a 32-inch QLED television, a starry sky ceiling with shooting stars function and star animation, a related ambient lighting system, but in a first-class private jet.
| | | |
| --- | --- | --- |
| | Our individualized automobiles provide customers both an exclusive driving experience and a high utillization factor on every single drive. A double sound insulation in the VIP area provides significant volume reduction so that even long journeys, private or business travel, are pleasant and relaxing. | |
Mercedes-Benz VIP Van – Rovelver Royal Edition
Rovelver provides discreetnes and incomparable exclusivity at once
| | | The family-owned company Rovelver VIP Auto Design was founded in year 1995. As an official Mercedes-Benz partner it belongs to one of the pioneers among the leading manufacturers in the areas of VIP vehicle interior design and vehicle finishing. | |
| --- | --- | --- | --- |
Unsubscribe from this mailing list.